From Justine's page -
HOPE EVERYONE IS HAVING A GREAT FIRST QUARTER OF THE YEAR. WELL I HAVE SOME GOOD NEWS! I WAS ACCEPTED INTO THE NAPW (NATIONAL ASSOCIATION OF PROFESSIONAL WOMEN), IT WAS A VERY GREAT HONOR AND PRIVILEGE TO BE ACCEPTED!
All OOAK & Handmade Jewelry
Well, I was buying jewelry for myself off of Tophatter and one day I won a mystery box full of jewelry supplies, so I started making simple things, like earrings, well, that was it for me, I started watching on-line tutorial videos, went to Michaels first, won some more mystery boxes, then started ordering more from FireMountainGems, E-bay, etc. I opened my shop on Etsy in Oct. 2012. Now I just started making jewelry in Sept. 2012, so that was pretty fast. I've always been into some sort of craft, but had not done anything in a long time. But once I started making jewelry, I fell in love with it! I love anything sparkles and shines. It is now my passion and love, outside of my family and friends, they always come first! But I love the look on my customer's faces when I give them their piece if jewelry, and how they light up and smile! It gives me such great pleasure knowing that I've made someone happy! It's been slow selling on-line, but I'm not giving up, as I know I will make it one day! I know my quality of work and have gotten alot of good feedback from many other popular jewelers! And I know you will be happy with my work also!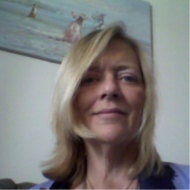 Justine Redman
owner, Owner, Designer, Maker