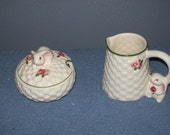 https://www.etsy.comshop/2ndChanceSerendipity
Welcome to 2nd Chance Serendipity ... we have recycled items turned into something useful as well as a nice selection of vintage items...this is the place you will discover great items by accident. ~Remember to recycle...reuse...relove~
We believe no good item should be thrown away....so we have found ways to recycle and reuse items to make them into useful products....and also wanted to offer some great vintage items that are in need of being reloved by you!
Customer satisfaction is very important to us and we are dedicated to providing a positive experience for all of our customers.
We also offer promotional/advertising services at http://jdspromotions.ecrater.com/ if your store needs a boost in views!