https://www.etsy.com/shop/IsabellasHatsandBows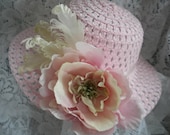 Visit our shop to see our selection of hats, fascinators, bridal, and more for all ages -casual & formal - custom orders are always welcome. You can visit my shop in Noblesville on Logan Street on the first floor of Whimzy!
Please visit IsabellasFunHouse on Etsy for costume hats, accessories, doll and pet items and handmade pinatas by Manny!

BLACK FRIDAY sale going on right now! Enter code BLACKFRIDAY4U and get 20% off purchase with $10.00 minimum purchase.
♥ We love custom requests!♥

I am a mother of five with three still at home and one grandchild. Because we have three girls, it was easy to develop a passion for all things girly and frilly! I keep learning and creating and hope to evolve my creations into something truly unique.

As I continue to grow my Etsy shop -I am falling in love with hat making as a form of art and self expression. Hats are a great way to make a statement that expresses who you are and what you like. I put my heart and soul into what I create. I want my customers to be delighted with my creations.


All of my items are made by me in a clean, smoke-free environment.

We have opened a new shop which features more "costume" type accessories but the main feature of this shop will be handmade pinata's by Manny. Please visit Isabella's Fun House on Etsy and see what's new!