https://www.etsy.com/shop/oldfamiliar1
VINTAGE STUFF FOR YOU!
website: oldfamiliar.com
I am also collector and like to share my treasures with you !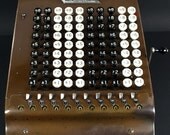 I started to sell "antiques" when I saw, better my wife, that our house became into a museum. It was just to much, so I promised, I will change it. It was a difficult issue, because I am all weekends on many flea markets. I decided to keep some of the treasures for a while and then i will sell them. I liked it so much that I bought things to sell, and my own business was born. I love the contacts all over the world and I get daily new impressions about old "stuff" and also art. Now I try to sell collector items which I also would like to have, so I do, for a short while.